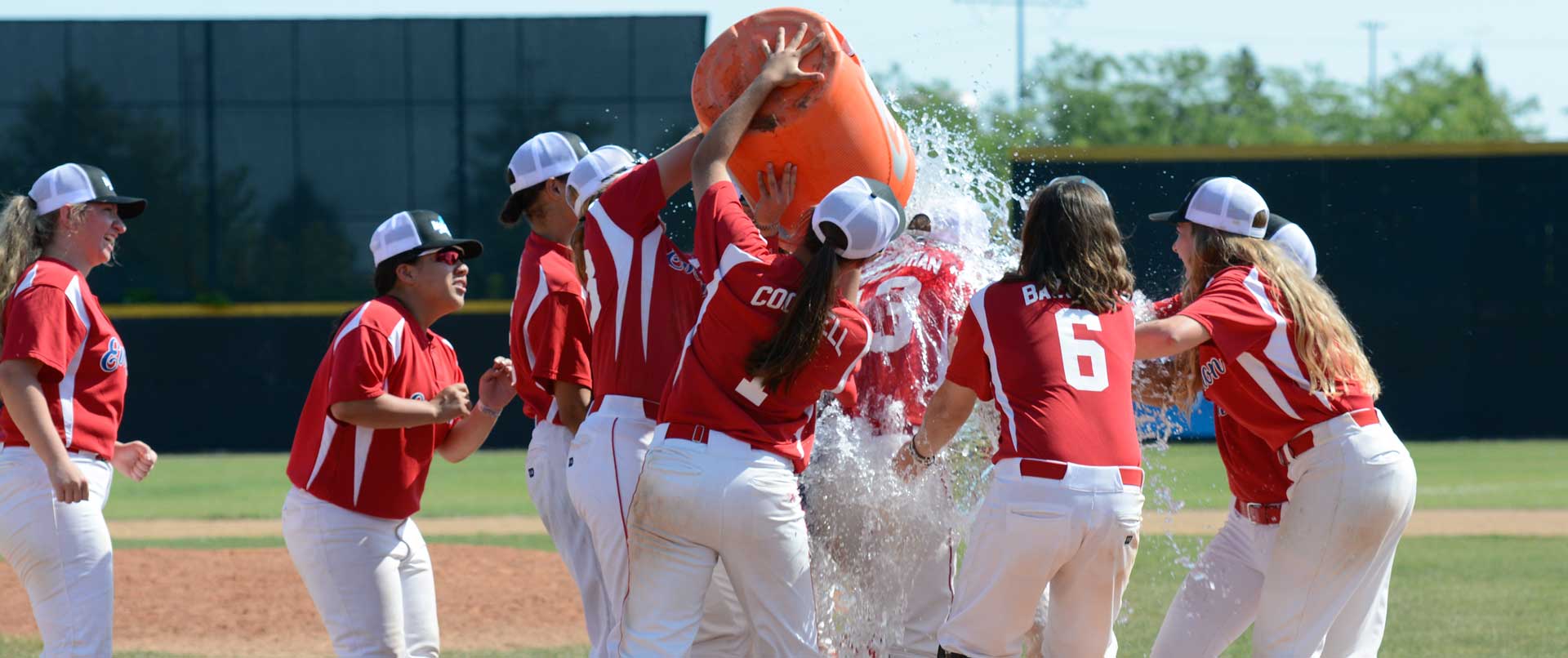 Starting a Girls' Baseball Team
"I started looking for opportunities for my 9-year old daughter to play ball with other girls. We decided to try [making a team] on our own for our fall program. We were able to register 30 girls, and I can clearly say it has been a total success. I would have never tried it if not for reading about what have you been doing. I wouldn't have thought it could be even possible. It inspired us to just try it. I'm so glad we did. If a town of under 20,000 can do this in the offseason, there is no doubt in my mind it can happen anywhere and everywhere." – Brent, Parent & Coach
We offer resources for all parents and coaches who are interested in starting a girls baseball team of their own. This includes marketing assistance, tips on how to recruit and fundraise, and opportunities for you to compete against other girls across the country
Contact us to learn more and get started today.
Want to see where teams are already flourishing? Check out our map of girls baseball teams now.
Top 5 Tips for Starting a Program
"Create an ethos of supporting players from all parts of the talent spectrum, and no matter how things go in a game. The aim is to create a safe, supportive environment for girls to continue playing" – Gillian Pierce, LA Monarchs

"Organize girls' baseball fall ball practices/skill building, so as not to conflict with softball or spring baseball." – Karen Buzzelle, Boston Slammers

"Once you have a team, you're off to the races. Hold practices, book exhibition games, do some team-building so the girls know and like each other, and get to Aberdeen!" – Neal Bach, Toronto Blast

"Find an older "star" player(s). It's essential to have parents involved during practice and games, but there is great significance in having older girls (think 16- to 25-year-olds) who can help. – Hank Domain, NY Upstate Boomers

"Work Hard. It takes a lot of work and time. Be dedicated. It is so worth it when you see a team come together." Pat Noonan, East Bay Oaks
Frequently Asked Questions
What is Baseball For All?
Baseball For All is a national nonprofit building gender equity for girls in baseball by creating opportunities for them to play, coach, and lead in the sport. Throughout the year, we host regional and national tournaments, events, and leadership programs that create a strong network of girls in baseball.  
When you're part of Baseball For All, you're a part of a premier international community of girls who love and play baseball. In 2019, nine of 20 players representing the country on the USA Baseball women's National Team were Baseball For All alumni and current players. 
Who can start a team?
You can! Parents, coaches, existing co-ed organizations, and anyone with an interest in growing the game can start a girls baseball team. We are here to help you through the process. Contact us if you'd like to learn more. 
"I would have never tried it if not for reading about what you have been doing.  I wouldn't have thought it could be even possible.  It inspired us to just try it.  I'm so glad we did.  If a little town of under 20,000 can do this in the offseason, there is no doubt in my mind it can happen anywhere and everywhere." – Brent Slama, Greenfield, CA
Where can I find the girls to play on my team?
That's a good question. They're out there! Over 100,000 girls play youth baseball in the U.S.—now it's up to you to find 12 and bring them together. In our experience, we've found that oftentimes if you see one girl playing, her parents will know another girl who also plays nearby. Once you get about six girls together, the rest will come, as all the parents will be helping you look and recruit. The key is to get the word out every way you can. 
"One avenue that reaped big rewards for the Boomers was a flier sent home to every elementary school kid in the local school district. The only cost was making copies." Hank Domin, NY Upstate Boomers
Other ways you can recruit girls for your team include:
Search local leagues, school teams, and travel teams
Set up a website or social media page to start getting the word out
Post a flyer at your local batting cage and sport complex
BFA Rule of Thumb: Do not approach the player before speaking to her parents first. When you find a player who qualifies for your team, talk to the parents or coach to introduce yourself and gauge interest.
"Call all Little League/baseball programs in a 20+ mile radius and ask if they have any girls! Explain you are looking to do skill building and it won't conflict with regular leagues (not trying to poach anyone)." – Karen Buzzelle, Boston Slammers
What kind of local support do I need?
You can reach out to your local league or city recreation department for help. They may be interested in building the program with you. For example, The East Bay Oaks are associated with Albany Little League and the San Francisco Bay Sox are supported by the San Francisco Rec & Park Department.
"Developing a strong relationship with a local baseball league can be extremely helpful. They can assist with field space and sometimes with equipment. Start by making contact with the league's leadership team or by attending board meetings. Tell them of your idea to start a team. Be excited and promote not just the 'sport' but the other benefits (teamwork, friendship, etc.)." – Hank Domin, NY Upstate Boomers
Who will our team play?
Most girls within Baseball For All will play locally for their "boys" team and supplement their season by also playing with their girls teams at BFA-sanctioned events. To fill out their schedules, some girls teams play in local "boys" tournaments. How much your team practices and how much you play and who you play is up to you.
"To start, focus on one event as a goal. For example, get a team for a regional BFA event. Get a team for Nationals. A regional BFA event is easiest. Only a weekend and travel can be far less for team and families." – Pat Noonan, East Bay Oaks
Many teams form with the primary goal of playing at BFA Nationals. Having a tournament in mind to attend often helps parents who are new to girls baseball, and helps them to visualize what the path and purpose for the team is. Nationals is so impactful and exciting for players and their families that most want to continue playing together after the event is over.
"Use BFA Nationals as a galvanizing force to build a team." – Karen Buzzelle, Slammers
Do I need to be a nonprofit?
Becoming a nonprofit allows you to fundraise. About half of our teams run as nonprofits while the others operate as more traditional travel teams. If you become a nonprofit, we recommend keeping your board of directors small at first and be sure to work with people you trust and enjoy being around. For more information on this process, please contact us.
"Find a strong core of parents/supporters to form leadership team. Do not go solo with only one person. There usually are some parents more excited and willing to chip in leadership." – Pat Noonan, East Bay Oaks
Where should I hold my first practice?
Whether you have three girls or 15 expected to show up, we recommend holding your first practice/get-together at a batting cage. Cages help accommodate different age groups and abilities. Having your first practice at a batting cage requires no additional insurance and is a known public place that parents will be comfortable bringing their daughter to for the first time. You can pay for the cage yourself or just have the parents chip in or buy their own tokens.
Should I be on social media?
Social media helps connect our BFA community. Almost all of our teams have a presence on Instagram and Facebook. Having an internet presence helps legitimize your efforts. It also gives us a way to share with our online community that you are starting a team.
Be prolific about getting the word out: Promoting the team and recruiting girls via social media is key. Facebook, Instagram and Twitter probably are the best place to reach parents. Consider spending a little money to boost Facebook posts to reach specific parents in your area who have daughters and already identify themselves as fans of baseball, softball, Little League, etc.
How much will it cost to start a team? Should I be fundraising?
Having a financial plan is a good idea when starting a team. That said, each of our teams use different financial models depending on where they're located and what their demographics consist of. Expenses can include jerseys, field rentals, umpires, and tournament fees. Contact us for more advice and insight on how to create a budget for your team. No matter which model you use, just make sure to keep an accurate account of finances for transparency.
Here are a few examples of different missions (and ways of raising money) from three successful programs from North America:
The NY Boomers, who accept all girls who want to play baseball, regardless of ability, used raffle tickets to raise funds to keep costs low.
"If possible, try to offer the first season at no cost. You will get many more girls interested if you're able to limit the parents' financial commitment. Raise money through a GoFundMe or via raffle. You should be able to cover costs for insurance and uniforms and other incidental costs, especially if you secured help with fields and equipment. In the Boomers' first year, we raised approximately $2,000 via GoFundMe and $1,000 through voluntarily sold raffle tickets. It paid for players and coaches jerseys and hats and insurance. We asked for only $10 per player for uniforms/hats (they cost $47 total)." – Hank Domin
The Toronto Blast focuses more on creative competitive teams. To ensure their players are committed, they have parents pay their fees soon after they make the team.
"Following the tryout, make joining the team be contingent upon immediate written and financial commitment: signed commitment form, uniform sizing and order, hotel booking, BFA registration." – Neal Bach, Toronto Blast
Fundraising can be time consuming, but will help keep costs down and allow all of your players to participate regardless of the household income. We recommend having several parents on assisting you with fundraising efforts to help work connections and avoid burnout. Nonprofit status is tremendously helpful in fundraising.
"Fundraise endlessly, so the trip is affordable and every girl can go to Nationals who wants to play." – Karen Buzzelle, Boston Slammers
What else do I need to know?
Insurance
For a team to play for Baseball For All and really anywhere else, you need to get a general liability policy with a minimum of $1 million. BFA uses Chappell Insurance but the choice is yours.
Background Check and Certification
Yes and Yes. To comply with federal law and to best protect our players, all coaches and administrators must complete a background check through our USA Baseball portal click here. Coaches and administrators must also complete an online Adult Abuse Awareness Course through Safesport via USA Baseball click here. The background check is just $6 and the online course is free.
Regional Restrictions
To help grow girls baseball leagues around the country, BFA has regional recruiting protocols. If you are starting a team from Portland then you should recruit girls from Oregon. If you are the only team in the Northwest then you can recruit from the entire region. In an effort to keep national-type teams from forming and to instead build our game across the country, recruiting geographical restrictions are in place. If you have any questions on this just ask for clarification.
Female Coaches
Role models matter. To show our girls that woman can become coaches we mandate that all teams have at least one female coach. Some teams are coached by all women and others have both men and women. For Nationals, each team can register 4 coaches.
BFA Coaching Pledge
After interviewing over a 100 girls on what they would like from a coach, BFA wrote their own Coach Pledge. The essence of the pledge is players want to feel respected. When registering as a BFA coach for Nationals, all Coaches will be asked to accept the Pledge. You can also find it here.